What is Competitive Intelligence?
February 18, 2020
As a practitioner of Competitive Intelligence, I am often asked to define my craft. After all, there is so much intelligence today—Business Intelligence, Competitive Intelligence, Corporate Intelligence, even Artificial Intelligence. How do you make intelligence of, well, intelligence? For this post, I am going to leave Artificial Intelligence to science fiction writers or at least to the engineers that are building those solutions. Instead, we will start with Corporate Intelligence in order to answer the question "What is Competitive Intelligence?"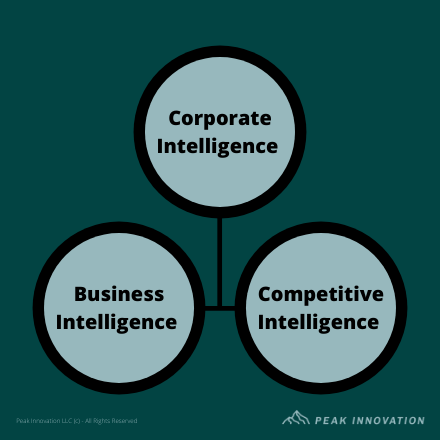 It could be said that "Corporate Intelligence is about gathering and analysis of information to outline facts that help organizations make considerate and informed management decisions."
1
Looking at the graphic to the left, Corporate Intelligence is considered the sum total of Business Intelligence (BI) and Competitive Intelligence (CI). In other words, it is what the firm knows about itself internally (BI) plus what it knows about its external environment (CI).
Business Intelligence involves both a software and a human element to convert a firm's data into useful information that supports an organization's strategic and tactical business decisions. Over the years, the available tools for BI have expanded dramatically starting with Excel (Lotus 123 for some of you!), and now there are many cloud-based solutions from companies such as Domo, Looker, and Tableau. These companies are enabling advanced BI analysis incorporating predictive analytics, machine learning, and insightful visualizations. Of course, the skill set of the practitioner has also evolved and now the field of data science continues to emerge as the domain for BI.
Competitive Intelligence can be simply defined as the ethical gathering of information and developing insights about the firm's external environment. It is what a firm understands about its competitors and their products, services, capabilities and other factors of interest. It also includes what the firm understands about its broader business environment and adjacent or possibly unrelated environments depending on desires for expansion and acquisition. Sometimes this is also referred to as Market Intelligence.
Competitive Intelligence engagements can take many different forms based on the needs of the firm. Below are numerous examples of Competitive Intelligence projects.
Competitive Pricing Analysis
Outsourced Competitive Intelligence Function
Set Up or Process Improvement of In-House Competitive Intelligence Function
Industry Analysis
Strategic Vendor Selection
Win Loss Analysis Programs
Battle Cards
Voice-of-Customer Interviews
Qualitative Research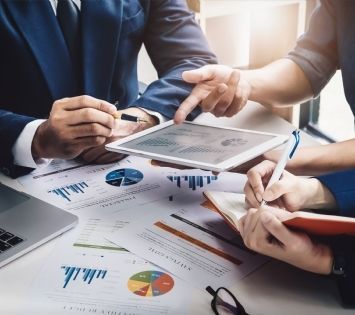 The practical execution of Competitive Intelligence involves both secondary research and primary research. Secondary research may be defined as that information that the practitioner gathers from printed or published sources. Primary research, on the other hand, is the information gained by the practitioner through direct question and answer with respondents whether through quantitative or qualitative surveys along with live interviews.
Firms that offer Competitive Intelligence services sometimes specialize in either secondary or primary research. Those specializing in secondary research typically have developed a web-based tool that gathers desired internet data, organizes it, and presents it to the client. Firms specializing in primary research typically possess a strength in survey methodologies and are staffed with professionals skilled at analytics and generating conversational insights.
Companies leveraging Competitive Intelligence insights gain many benefits including:
Executive teams gain the input to execute war gaming sessions
Product managers construct roadmaps that deliver unique features and benefits
Marketers develop messaging that is distinct from competitive clutter
Sales teams anticipate competitor attacks and are able to defend and counterattack
Clients learn the most important reasons they win and lose deals
RFP teams receive objective insight concerning potential vendors
Once a company realizes the benefits of utilizing Competitive Intelligence there is no turning back!
Learn more about Peak Innovation's approach to Competitive Intelligence
. Please
contact
Peak Innovation to schedule a time to speak or to learn more about how to put Competitive Intelligence to work at your company.